Similac Alimentum and Nutramigen ready-to-feed liquid now available!
We fill new and existing prescriptions in-store, by phone, online, and with our mobile app.
Transfer your prescriptions to our pharmacy using our simple and secure online transfer form.
Visit us in store or get in touch with a member of our pharmacy staff. We're always happy to assist you.
Become a Pharmacy Insider
Subscribe to our newsletter for promotions, health news and savings

Download Our Free App.
Your health information in one place.

✓ Refill 24/7 »
✓ Set Reminders »
✓ Save on Medications »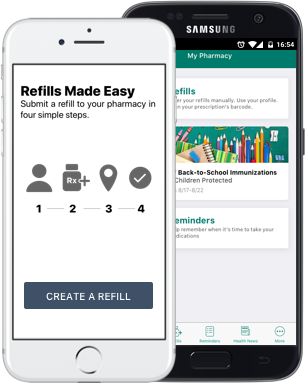 Robert R.
"The staff and the pharmacists are very professional and courteous to your needs. I've been going for years and I love their prices and attention to your specific questions."

Joyce S.
"Very helpful to clients and anyone walking in the pharmacy; pleasant atmosphere. The pharmacist is visible and he is very friendly. The receptionists are also very pleasant and supportive –– their kindness shows that they are people-persons!"

D. Bewell
"I can't begin to explain how blessed I am to have found a pharmacy that actually cares about the health and well-being of people like myself. Keith, the Pharmacy Director, takes the time to get to know you personally. He explained, in detailed instructions, all of my questions . That is so hard to find in this fast paced world we live in. Thank you Citizens! Proud to be a paying customer."
Citizens Pharmacy Services combines high quality products with personalized care. Our staff is happy to help you with any questions you may have.
Check out our weekly health news blog, or subscribe to our newsletter and receive updates on health articles, promotions, specials and much more.
We offer a wide variety of services including conventional prescription filling, compounding, medical equipment, diabetes care, and much more.

We'd Love To Hear From You
At Citizens Pharmacy Services, we're committed to helping you live a healthier life. Our pharmacy staff would be happy to help you with any questions you may have.
Phone: 410-939-4404
Fax: 410-939-3609